** Website for sale **
Jump in, the water's lovely
Free wireless internet, USA calls, Games Room, and more!
If you have any questions on the booking process, take a look at our Rental FAQ page.
Our four bed three bath, fully managed private villa was new on the market in 2013, and clearly there are a lot of private villas in the Disney area to choose from. However, you can't change the location so we bought our villa in the Tuscan Ridge community which we feel is one of the best all-round locations in Orlando Florida. Less than 20 minutes to Disney but completely secluded from the noise and mayhem of closer communities.


Our latest addition to the house is a brand new games room with full sized Ping Pong, 7ft Air Hockey table, and 4ft Foosball table, so you can enjoy your time at our villa even more than ever. We have also upgraded the TV with a brand new 47" high definition model, replaced all of the linen and bedding in the house, and renovated the decor, pool deck, jacuzzi and pool heater. It is now looking absolutely fantastic!
Sleeps up to 10 plus cot
End suite floorplan for privacy
Heated south facing pool & spa jacuzzi
Child friendly pool screen
Games Room fully decorated & clean
4 bedrooms and 3 bathrooms
Free wireless high speed internet
47" LCD HD TV & HD cable
Free Canada & USA long distance calls
Hair dryer!
Ping Pong, Air Hockey & Foosball
Over 2000 square feet
Fully air conditioned
Security safe
High chair and cot
Sofa bed sleeps 2
Laundry room
Large double garage
Wide, landscaped mature plots
Our private villa and the pool have loads of great features that every holiday maker should insist upon, included in the list below and in more detail on our FAQ page. Built in 2004, the villa is in great condition and of a high quality build unlike a lot of properties in Florida. You won't be disappointed with your stay, and we intend to work with a lot of word of mouth bookings. Discounts for repeat bookings are always available and we reward loyalty.
The kitchen comes complete with all modern appliances, fridge-freezer with ice and cold water dispenser, gas hobs, high quality units and a sit up breakfast bar area. If any visitor finds a day to day utility missing we will make every endeavour for our management company to purchase the item and get it over to you for your holiday, subject to availability!


The villa's fantastic layout with two living and dining areas
The villa's fantastic end suite floorplan has two dining areas and also two living areas in which to relax after a sunny day of activities. The two thousand square feet of living space comfortably swallows up to ten people staying at the villa, without treading on each others' toes.
Completely enclosed private king and queen suites means that two families can enjoy their stay in the villa with privacy, their own space and own bathrooms. No fighting over the best bedrooms!
The Games Room comes fully decorated and equipped with Ping Pong, Air Hockey, and Foosball! Enjoy a full day at our villa and relax after the pool by spending a couple of hours in our games room playing air hockey, improving your ping pong skills, or replicating the last world cup on the table foosball. The games room comes furnished with a raised bar seating area at which to enjoy the show, and cheer on the competitors!


Two en-suite bathrooms and a shared bathroom for the twin bedrooms
The master ensuite and twin bedrooms' bathrooms. Built in 2004, the villa's bathrooms are of high quality and perfectly clean. The end suite also has a bathroom, making a total of 3 to avoid any queueing during your stay!
The two twin bedrooms in the villa are tastefully decorated to attract both adults and children of all ages. Each room is large enough for two twin-sized beds with ample space for luggage. The two bedrooms share a bathroom with shower, bath and toilet so there are plenty of facilities for even 10 people staying at our accommodation.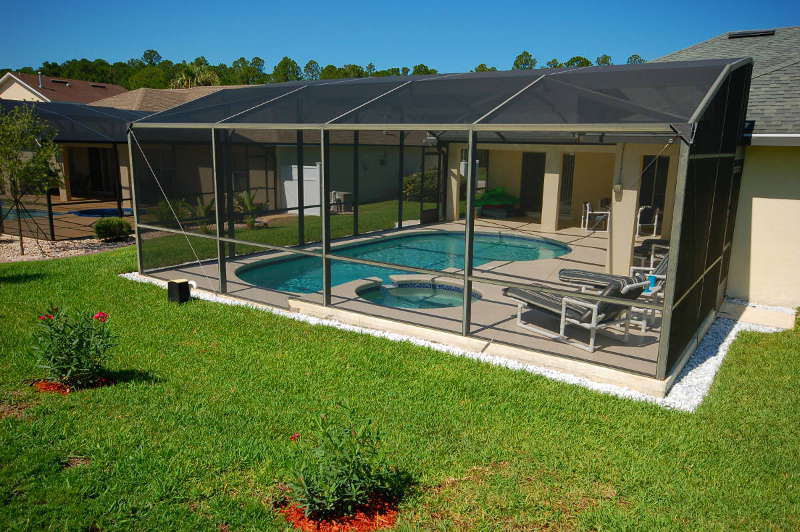 Our villa's distinguishing feature is a large south facing heated pool and spa
The extra wide plot makes sure that during your stay you do not feel at all overlooked. The approach to the house is down through the Countryside area of Tuscan Ridge, through immaculately maintained villas and with scenic pine trees a couple of hundred metres away. Perfect after a hard day's golf or theme park enjoyment.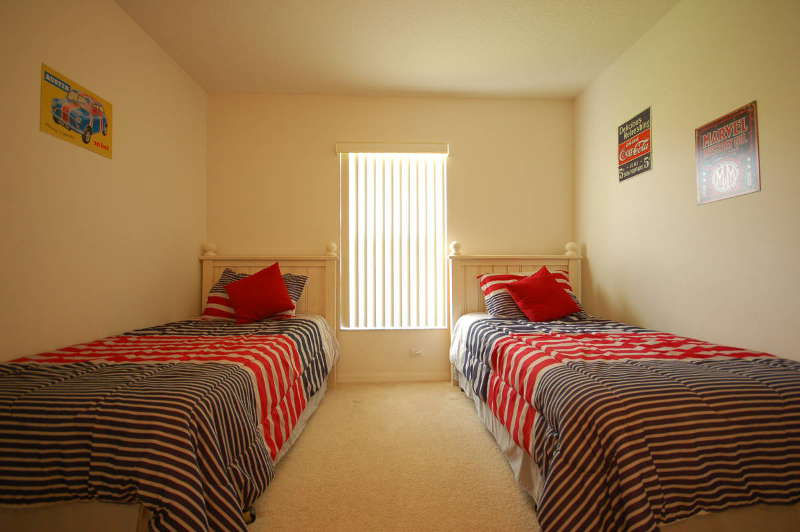 The twin bedrooms suit all ages, not just little ones
With so many villas to choose from you should not settle for anything else if you have the choice. During the winter months any other orientation of pool will not take advantage of the beautiful Florida sun. Why should you be forced into the shade during your stay? Our pool and spa area has a large shaded L-shaped lanai section so you can keep out of the sun but only if you wish, and comes complete with a child-proof removable screen to add extra safety to the pool.
Shaky-cam exterior video of the villa
We happily admit that taking movies isn't our strong point and we'd rather be renovating the house and enjoying the pool, however here's a brief video of the exterior of the villa.