** Website for sale **
Theme Parks & Golf
World class golf in Florida
Skip the details, show me the golf map!
Looking for attractions and parks? Click here.
I have an admission to make - I do not play golf. However, over the past few hours I've been researching golf courses within 30 minutes' drive from the villa, and it has without doubt inspired me to take it up here in the UK just so I can experience some of these world class courses. Any golfers renting the villa will be absolutely spoilt for choice - I can now see why Florida and in particular Orlando is such a popular destination.
The list below is in order of distance from the villa, nearest first. The first couple are only 5 minutes away.
Greg Norman designed 36 high quality holes.
Nicklaus Tradition course and Palmer Legacy course at this resort.
6 holes of championship golf, and a 9 hole course in addition. One of the best public courses in Orlando.
Championship Mike Dasher design with pine-tree lined fairways very close to Dave's Florida Villa.
Award winning golf course not to be missed, with the best greens around.
In particular, the Arnold Palmer designed Legends course at the resort.
Robert Trent Jones Sr. and Jr. designed golf course in the fantastic town of Celebration.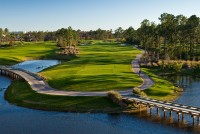 One of the newest additions to the Orlando golf courses. This Rees Jones championship design is immaculate.
Nationally recognised Steve Smyers' championship design with excellent greens.
45 holes of Jack Nicklaus designed championship golf, a little more expensive than some of the other courses.